Digri
Air Field
| | |
| --- | --- |
| | |
| | |
| | 1942 |
| | |
| | Abandoned |
| | |
| | |
RAF 159 Squadron & Dad's War
My father, Thomas Fraser, LAC 1076099, born Inverness 25 January 1906, died Aberdeen 27 July 1980, served in many places in WWII but it seems the most important was in RAF 159 Squadron, in the Far East. I have his diaries for the period but as he's written all his Far East service, from embarkation to disembarkation, they can be almost impossible to follow, in places. It's been difficult getting information on this period but I had some help from Robert Quirk, who has researched the Squadron and he also put me in touch with Jimmy (Bernard) Greenstein, who worked as an electrician on the same Liberator, Xtasy, as my father, who was an airframe mechanic. Jimmy supplied me with first hand knowledge. With my own research and details from Robert and Jimmy, I now have enough information to put up this page to show, in a limited way, 159 Squadron and my father's war. This page is dedicated to 159 Squadron. The picture top right is of my father, left, a friend and the Liberator Mark VI, KH 170, christened Xtasy, with the nose modified and its front gun turret removed.
More »
Christmas 1944. RAF Bengal India.
George Barker-Read.
'Memories Class'

George Baker-Read

I had been working hard the preceding three months leading up to Xmas '44.

Apart from my normal duties as Corporal i/c Instrument Repairers on 'B' Flight, 159 Squadron (Liberators) at RAF Digri in Bengal, India, somehow I had become saddled with the job of producing a show for Christmas.

Looking back I find it hard to believe, as I had no previous stage experience of any kind and 159 Squadron was a first rate unit of up to 800 very talented people. The entertainments committee had just descended on me and said "we think you can produce a Christmas show this year—will you do it?" So I just got on with it! More »
RAF 159 Squadron
Motto: Quo non, quando non (Whether not, when not)
Badge: In front of logs enflamed a peacock's head holds a woodman's axe. 159 Squadron was the first four-engined heavy bomber unit in India. The peacock's head commemorates its association with Burma, the axe its pathfinder activities in blazing the trail.
History of 159 Squadron: No.159 Squadron was formed on 1 June 1918 as a nucleus but was disbanded again on 4 July 1918after formation had been suspended to provide reinforcements for France.
On 2 January 1942, No.159 reformed at Molesworth and its groung echelon left for the Middle East in Febuary.
| | |
| --- | --- |
| | After being employed on servicing duties, it was posted to India in May. The first group of No.159's Liberators were flown out to Palestine in July 1942 and carried out bombing raids on enemy bases in North Africa, Italy and Greece before flying on to India, the first arriving at Salbani on 30 September. Operations against the Japenese began on 17 November and the long range bombing and reconnaissance missions were undertaken for the rest of the war over targets in Burma, Siam, Malaya, Indo-China and the Dutch East Indies. After Japan surrendered, No.159 was engaged in transport and survey duties before disbanding on 1 June 1946. |
Squadron Bases & Airfields

Equipment Used and Dates

Molesworth 2/1/1942 as ground echelon en route to Middle East 12/2/1942.

Liberator II 5/1942-8/1943

Fayid 15/4/1942 En route to Far East 10/5/1942, element remained at Fayid.

Liberator V 7/1943-8/1943

Deolali 24/5/142

Liberator III 8/1943-6/1944

Chakrata 1//1942

Liberator VI 3/1944-7/1945

Salbani 1//1942 - 27/9/1942 Air echelon training at Polebrook with no.1653 HCU 1/1942

Liberator V 7/1944-2/1945

Lyneham 26/4/1942

Liberator VIII 6/1945-6/1946

Fayid 7//1942 (personnel from Nos 147, 159, 160, 454 and 458 squadrons)

St Jean 2/7/1942

Aqir 12/8/1942

Joint squadron restyled as No.160, No.159 aircraft to Far East 16/9/1942.

Salbani 27/9/1942. Detachment

Dudhkundi circa 8/1943

Digri 24/10/1943 Detachment

Dhubalia 9/3/1944 Detachment

Madhaiganj circa March 1944

Digri 15/4/1944

Detachments Jessore, Akyab, China Bay, Drigh Road, Pegu

Salbani 2/10/1945-1/6/1946

detachments Pegu, Santa Cruz, Sookerating
RAF 357 Squadron
Motto: "Mortem hostibus" ("We bring death to the enemy")
Badge: A crocodile
History of 357 Squadron: No.357 Squadron was formed at Digri, India on 1 February 1944, from No.1576 (Special Duties) Flight, which formed A Flight of the new squadron. B Flight consisted of four Catalinas at Redhills Lake, Madras, the squadron establishment having three Liberator IIIs and seven Hudson VIs in addition.
Initially it used the Hudsons for supply drops to guerrilla forces in Burma, while the Liberators and Catalinas undertook long-range flights to Malaya and Sumatra, where the Catalinas landed agents and supplies on the coast.
| | |
| --- | --- |
| | On 21 March 1944, the Catalinas became No.628 Squadron, but the Liberators continued their supply flights until the end of the war. By January 1945, Dakotas had replaced the Hudsons, and C Flight was formed to operate Lysanders into strips in enemy controlled territory, mainly for picking-up agents and supplying Force 136 operating behind the Japanese line. In this respect, No.357 had a comparable role to Nos.138 and 161 Squadrons in Europe. With the end of the war, C Flight became the Burma Communications Squadron on 7 November 1945, and on 15 November 1945 the squadron was disbanded. More » |
RAF 358 Squadron
Motto: "Alere flamman" ("To feed the flame")
Badge: An arm embowed, holding in the hand a torch
History of 358 Squadron: No.358 Squadron was formed at Kolar, in India, on 8 November 1944, mainly from personnel of No.1673 Heavy Conversion Unit which had recently disbanded. Sixteen Liberators arrived during the month and crew training began. After moving to Digri in January 1945, the squadron flew its first bombing mission on 13 January, when eight aircraft bombed Mandalay. This however, proved to be the only bombing operation flown, as the squadron was then allotted to Special Duties. These consisted of dropping agents and supplies into enemy occupied territory, in the course of which long flights were undertaken.
| | |
| --- | --- |
| | The fact that the first SD operation on 22 January lost three out of eleven aircraft illustrates the hazards of this type of mission when apart from the distances and weather problems involved, low altitude flights over enemy territory had to be made to locate dropping zones. Such flights continued until the end of the war. After the Japanese surrender, supplies were dropped to prisoner-of-war camps in Malaya, Sumatra and Java, until an airlift could be arranged to bring the occupants out to Allied bases. On 19 November 1945, the squadron was sent off for disbandment which took place officially two days later. More » |
RAF 355 Squadron
Motto: Liberamus Per Caerula (We liberate through tropical skies)
History of 355 Squadron:
355 Sqn existed from 18 August 1943 until 31 May 1946 (less than three years). Its first aircraft (Liberator IIIs) arrived in October 1943 and it undertook its first bombing mission on 20 November when three aircraft bombed the central railway station in Mandalay.
It continued to attack targets in Burma such as the infamous Burma-Siam railway, airfields, bridges and harbour installations.



On the 2 May 1945, Fighter Commands only VC of WW2, Wg Cdr J B Nicholson, was flying as a passenger in a 355 Sqn Liberator, when it ditched at sea following an engine fire. Its last mission being carried out on 7 August 1945 by four Liberators attacking the Burma-Siam railway.

With the end of hostilities, it undertook transport duties including the dropping of supplies to POWs carrying freight to Panang and dropping food supplies to the starving inhabitants of Southern Burma. Originally operating from Salbini in India, it moved to Digri in January 1946, returning to Salbini in April. Before disbanding the squadron joined No 159 in carrying out an aerial survey of the area. . More »
RAF 99 Squadron
Motto: Quisque Tenax - 'Each One Tenacious'.
Badge: A puma salient - the design embodies firstly the squadron's history as a unit of the Independant Air Force and later as a Night Bombing Squadron. Secondly, Tenacity of Purpose, illustrated by the gallantry of daylight raids on Germany during the First World War and the tenacity required by aircrew of Night Bombing aircraft. Hence the selection of the Black Puma as the main emblem; independant in its habits and credited as being of the nobler beast of prey.
Key Dates:
1917 - Formed at Yatesbury as bomber Squadron.

1919 - Deployed to India.

1940 - Flew during WWII as part of Bomber Command.

1942 - Deployed to India.

1945 - Deployed to Cocos Islands.

1945 - Converted from bombers to become a Transport Command Squadron.

1949 - Reformed as a Transport Command Squadron and participated in the Berlin Airlift.

1956 - Dropped Paratroops during the Suez Crisis.

1970 - Moved to RAF Brize Norton

2000 - Reformed as sole UK operator of the C17 Globemaster III
Battle Honours:
Western Frontier 1918*, Independant Force and Germany 1918, Mahsud, 1919-1920, Waziristan, 1919-1920, German Ports, 1940-1941, Baltic, 1940-1941, France and Low Countries, 1940, Fortress Europe 1940-1942*, Ruhr 1940-1942*, Berlin 1940-42*, Biscay Ports, 1940, Arakan 1942-44, Burma 1944-45, Manipur, 1944, Eastern Waters 1945.
(Honours marked with an asterisk, may be emblazoned on the Squadron Standard )
History of 355 Squadron:
No 99 Squadron was formed on 15 August 1917 at Yatesbury, Wiltshire, from a nucleus supplied by No 13 Training Squadron, Royal Flying Corps. In April 1918, the squadron was equipped mainly with De Havilland DH9 aircraft, and was deployed to France to operate as a light bomber squadron. The squadron took part in seventy-six strategic bombing missions directed at German industrial targets for the remainder of the First World War. In September 1918, the squadron was re-supplied with DH9A bombers and in May 1919 was deployed to India to take part in aerial policing duties over India's Northwest Frontier. On April 1920, the squadron was disbanded by being renumbered to No 27 Squadron.
In 1924, No 99 Squadron reformed at Netheravon in Wiltshire and was equipped initially with the Vickers Vimy heavy bomber, and then the Avro Aldershot single-engined. These aircraft were replaced in succession by Avro's Hyderabad, Hinaidi and, in 1933, the Avro Heyford. During 1938 the squadron converted to the Vickers Wellington bomber, an aircraft it would operate for the majority of the Second World War.
On 8 September 1939, No 99 Squadron entered WW II with the first of many leaflet-dropping missions over Germany. The first bombing raids were launched on 17 April 1940 during the German invasion of Norway. European bombing operations continued until January 1942 when, once again, the squadron was deployed to India. From its base at Digri, No 99 Squadron commenced night bombing raids against Japanese targets in Burma. In September 1944, the squadron received its first American-manufactured aircraft, the Consolidated Liberator VI long-range bomber. Equipped with this new aircraft, in July 1945 the squadron deployed from Dhubalia to the Cocos Islands in preparation for the possible invasion of Malaya. In November 1945, following the Japanese surrender, No 99 Squadron was disbanded.
In 1949, No 99 Squadron reformed as a transport squadron equipped with Avro Yorks based at RAF Lyneham, and it took part in the Berlin Airlift. The Handley Page Hastings followed in August of that year. During the Suez crisis in 1956, the squadron operated out of Cyprus and dropped paratroopers on Port Said. In 1959, No 99 Squadron commenced worldwide strategic transport operations with its new Bristol Britannia aircraft. In June 1970, the squadron moved to RAF Brize Norton, where it remained until 6 January 1976, when it was disbanded following the 1974 Defence White Paper.
In July 1998, the Government's Strategic Defence Review detailed a requirement for an aircraft capable of deploying the Joint Rapid Reaction Force. Specifically, the aircraft would need to be able to carry outsized loads such as helicopters and large military vehicles .
In Nov 2000, 99 Squadron was reformed to operate the C-17 Globemaster III aircraft. The first of the squadron's four initial C-17s was delivered to the RAF on May 17 2001, arriving at RAF Brize Norton, Oxfordshire on May 23. One of the first high profile missions of the squadron was the deployment of Lynx helicopters and support equipment to Macedonia as part of a NATO peacekeeping force. This deployment was codenamed Operation Bessemer.
Since then, the squadron has been actively involved in support of other operations such as Op TELIC (Iraq), and currently Op HERRICK (Afghanistan). The first mission flown into Iraq by 99 Squadron was on May 21 2003; the destination was Tallil airbase.



Subsequent missions were flown into Basrah International airport. With its highly capable fleet of C17s, 99 Squadron has been involved in a variety of other roles including Specialist Aeromedical Evacuation (34 missions in 2009), Repatriations and Humanitarian Relief (2004 Asian Tsunami, 2010 Chilean earthquake, 2010 Pakistan floods).

The C-17 has become an essential component of the UK Strategic Airlift requirement and the original 4 leased aircraft were bought by the Ministry of Defence in 2008 along with an additional 2 identical platforms. The fleet will be complimented by a seventh aircraft in Dec 2010. . More »
RAF 215 Squadron
Motto: Surgite nox adest (Arise night is at hand)
Badge: A porcupine
History of 215 Squadron: This squadron was formed at Coudekerque, near Dunkirk, on 10th March 1918, as No. 15 Squadron, RNAS, and on 1st April 1918, became No. 215 Squadron, RAF. Its role was that of a heavy-bomber unit and it was equipped with Handley Page twin-engined bombers - initially O/1OOs. On the night of 11/12th April, two of its O/1OOs participated with Naval Forces in the first attempt to block Ostend and Zeebrugge harbours, and in spite of bad weather, one aircraft attacked the Zeebrugge mole by desultory bombing for two hours. Towards the end of April the squadron returned to England to be brought up to full strength. It returned to France early in July equipped with ten Handley Page O/400s, and until 19th August was based at Alquines. From here night-bombing raids were made on the enemy's communications. On 19th August the squadron joined the Independent Force (83rd Wing) at Xaffévillers, and during the remainder of the war made many notable bombing raids on railway junctions, munitions factories and airfields. No. 215 returned to England in February 1919, and eight months later it disbanded. It re-formed as a bomber squadron with Virginia aircraft in October 1935, converted (after having partially re-equipped with Ansons) to Harrows in 1937 and was flying Harrows and Wellingtons at the outbreak of the Second World War. In April 1940, it merged with SHQ, RAF Bassingbourn, to form No. 11 OTU, but after a false start re-formed in December 1941 - once again as a bomber unit - and early in 1942 went to India to operate against the Japanese in Burma. At first it was engaged in supply dropping flights during the aftermath of the retreat from Burma and in August coastal patrols began along the east coast of India. In October airbourne forces training began and it was in March 1943 before the squadron undertook bombing missions over Burma. Wellingtons were withdrawn from operations on 23 June 1944, and No.215 moved back to Kolar for Liberator conversion training. Operations were resumed on 1 October by both day and night and in April the squadron's role was changed to transport duties, Liberators being replaced Dakotas. Supply dropping missions for the 14th Army continued while Burma was cleared of the Japanese and in October the Squadron was moved to Malaya, Java and Hong Kong until the squadron was renumbered 48 Squadron on 15 February 1946.
| | |
| --- | --- |
| | On 1 August 1947, No.215 reformed at Kabrit as a transport squadron equipped with Dakotas. It was renumbered 70 Squadron on 1 May 1948. The squadron was reformed at Dishforth on 30 April 1956 with Pioneers for Army support and communications duties, being renumbered 230 Squadron on 1 September 1958. On 1 May 1963, No.215 reformed at Benson as an Argosy squadron and moved to Singapore in August to provide supply-dropping aircraft to support the army in Malaysia until disbanded on 31 December 1968. . More » |
Squadron Bases & Airfields

Honington 25/7/1938

Bramcote 10/9/1939

Bassingbourn 24/9/1939-8/4/1940

Detachments Silloth, Jurby, Squires Gate, Harwell
Honington 8/4/1940

Bassingbourn 18/5/1940-22/5/1940

Newmarket 9/12/1941

Stradishall 5/1/1942

Ground echelon en route India 12/2/1942

Air echelon formed at Waterbeach 21/2/1942

Air echelon en route India 19/3/1942

Asansol 14/4/1942

Pandeveswar 17/4/1942

Detachments Dum Dum, Alipore
St Thomas Mount 13/8/1942

Detachment Vizagapatam
Chaklala 13/10/1942

Detachment St Thomas Mount

Jessore 12/3/1943

Detachments Digri, Chittagong and Cuttack.

Detachments Kolar, Amarda Road circa 9/1943

Digri 17/9/1944

Detachment Amarda Road

Dhubalia 28/12/1944

Tulihal 5/5/1945

Basal 3/6/1945

Chittagong 9/7/1945

Hmawbi 19/8/1945

Kallang 23/10/1945-15/2/1946

Detachment Kai Tak

Digri Airfield - Photo courtesy of Thomas Oliver (ex 159 Squadron Groundcrew).

My Bedspace. Photo courtesy of Thomas Oliver (ex 159 Squadron Groundcrew).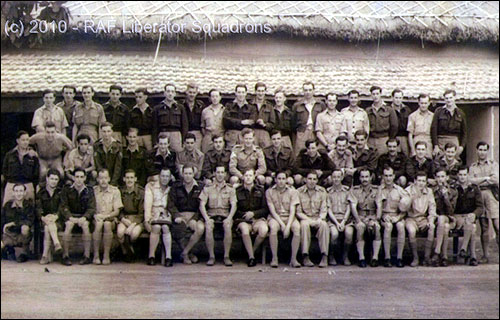 RAF 159 Squadron B-Flight (Photo taken 27 January 1944 at Digri, West Bengal,
India) TOP ROW, LEFT TO RIGHT: 1. F Sgt Bill Kirkness DFM WOP/AG 2. F Sgt. E.J. O'Connor AG 3. Sgt George Moth WOP/AG 4. Unidentified 5. F/Sgt R.H. Pryde WOP
/AG 6. Sgt George Plank WOP/AG 7. Sgt Stan Wilson (American) WOP/AG? 8. Sgt
Jack R. O'Brien AG 9. F Sgt W. Davey AG 10. Sgt W. Lear AG 11. Sgt S.P. Blackburn?
WOP/AG 12. F Sgt G.E.T. White AG 13.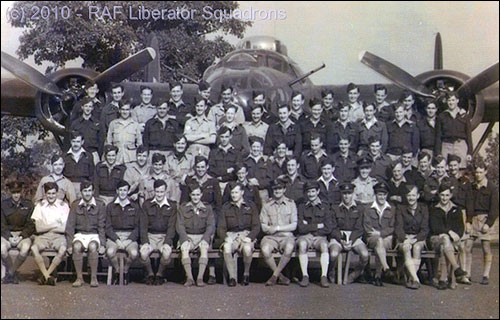 A-Flight 27/01/44 RAF 159 Squadron A-Flight (Photo taken 27 January 1944
at Digri, West Bengal, India)
The aircraft in the background is BZ926, Pegasus, which was shot down over
Rangoon by two Japanese night fighters on 29 February 1944.
Front Row Left To Right P.N. Higgins (Pilot) A. Black (P) Robert Ustick
(USA, flying for RCAF) (A/G) Died approx 1997. Eric Wallace (Aus)(P)

The two men seated are from the left Sgt F W Bennett (Butch) and Sgt E W Robinson
both members of the flying control staff at Digri. Picture Courtesy of Mike Robinson

Left To Right. Sgt. B McKinnon Front Gunner Sgt. B. McFarlane Mid / Upper Gunner
F/O E.R Cutlan Navigator. Taken under the wing of A/C KH-359 R-Roger in March of
1945 at Digri. Photo Courtesy of Ted Cutlan & The Canadian Air Force Photo
Archive.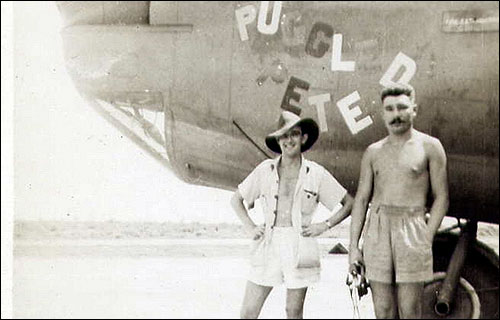 On the right standing in front of ""P"" for 'Puggled Pete' is Sgt. Joe Wilkinson, a Fitter IIa.
NCO i/c aircraft. Joe was so keen on the job he actually flew on 'ops' with the aircrew,
unofficially, at least once to my certain knowledge, during 1945, Digri. Post war, I think
I saw him driving a London bus! Photo & Text Courtesy of George Barker-Read.

Myself next to a Palestine Policeman aircraft guard, was taken July 1942 at St. Jean
Palestine, a 'grim place' I've noted. Akir, the next aerodrome was better, but the ground
personnel lived very rough in tents. My special pal, Roger Dugdale, another Instrument
basher and ardent communist, and I spent three days living in a 'kibbutz' close to Akir,
which was very interesting. Later, Roger was killed in a 159 Lib. flying from (I think
Digri), 'over the hump' to China. Photo & Text Courtesy Of George Barker-Read.

Billet Group, Digri.
Photo courtesy of Thomas Oliver (ex 159 Squadron Groundcrew).

Bruce at work, Digri.
Photo courtesy of Thomas Oliver (ex 159 Squadron Groundcrew).

Bruce at work, Digri.
Photo courtesy of Thomas Oliver (ex 159 Squadron Groundcrew).

Squadron Leader James W. Bradley DFC. These were taken right after he was liberated
from Rangoon Jail in May 1945. He paid a visit to Digri, where 159 Squadron was still
located, in order to visit 'the lads' - primarily those who were on C Flight involved with
the electronic intelligence ops. Picture & Text Courtesy of Matt Poole.

S/Ldr James W. Bradley DFC. These were taken right after he was liberated from
Rangoon Jail in May 1945. He paid a visit to Digri, where 159 Squadron was still
located, in order to visit 'the lads' - primarily those who were on C Flight involved
with the electronic intelligence ops. Picture & Text Courtesy of Matt Poole.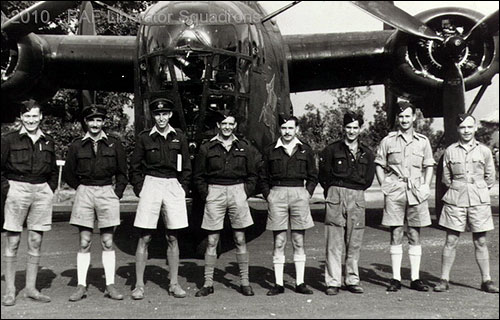 Photo was taken at Digri on 27 January 1944, the same day as the A Flight group photo
in this gallery. It shows the McDougall crew of A Flight in front of BZ926, P for Pegasus,
which was shot down with a different crew aboard on 29 Feb 1944. From left to Right.
L.J.H. Talbot (2nd W.Op/AG) Denis Boissier (N) Roy McDougall (Pilot) Tom Morris (2nd
Pilot) W. 'Ginger' McCaffrey (AG), probably J.P. 'Paddy' Goodison (AG) J. Brown (W.Op)
Dennis Stokoe (AG). Picture & Text Courtesy of Matt Poole.

..........................................................................................................
Want to know about "SUDDHADIB ATTACK" Click here ...
Hellbird Herald